An embarrassment of riches
If you read my blog because my mildly depressed tone cheers you up, or because my hapless ineptitude makes you feel superior, stop reading now. This will be a happy post, one bound to make you feel like a loser in comparison. I am about to prove how wonderful I am. Furthermore, I am appreciated, even loved.
No, the doctor did not up my meds.
First,
Erin
sent me this because I left a comment on her blog - can you believe it?
Wool of the Andes from Knitpicks
It is a pretty yet manly color, and I have the pretty yet manly boys who will appreciate it when it is knit up. I am hoping to meet Erin and her blogging partner Carma on Friday in Kalamazoo, when the
Yarn Harlot
makes a much awaited appearance at the
Athena
bookstore. Anne and I are planning to stop at
Threadbear
on the way - woo-hoo!
Any other Ann Arbor knitters heading out to Kzoo? Leave me a comment & maybe we can meet for dinner before the event.
But there's even more wonderfulness! Jen left me a very sweet and complimentary comment about my
Beginner's Fair Isle Baby Hat
pattern, and sent me a photo of the one she made. This Maize-n-Blue version would be just the thing for a little Ann Arbor baby, no?
Jen made my baby hat!
But the love just keeps coming. Today I received this in the mail from my
knitty coffeeshop
secret pal: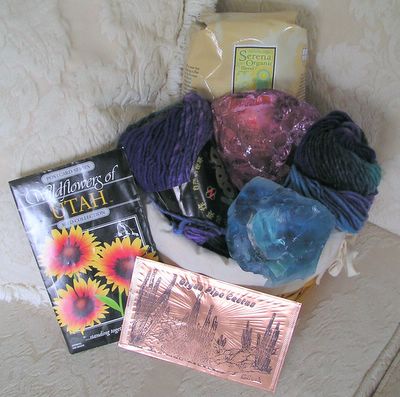 Still life with Kureyon, coffee, glass, and seed packet
More good news - Saturday was my first day at the lovely
Flying Sheep Yarns
(only two blocks from my house, lucky me). It was perfect in every way. I worked with a high school student named Mouse who's been knitting since she was five, and knits all day at school. I spent the day straightening bins and inventorying bamboo needles. I'm gonna like it there.
And I started my new real job today, and didn't expose myself as a charlatan.
I am so full of sweetness and light I can hardly stand myself. Admit it. You wish you were me.