Rhapsody in blue
Now that I have my camera back (thanks, Anne!) I can show you some pretty things. First, a basket of lovely blue sample skeins from
Elann
: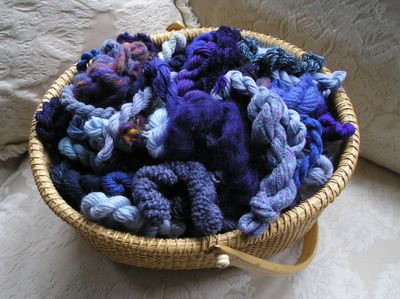 A basket of blue
I might do an afghan for my mother, if I can find the right deep blue foundation color. Otherwise, who knows? Anyone have any suggestions for me? I might just leave it in the basket and gaze at it lovingly.
Sally Melville
Styles
has some good advice for how to incorporate odd bits of yarn if you are interested in designing unique pieces from your stash. I am not crazy about the patterns in that book, but the color and design information is at least worth browsing.
Another blue project is on the horizon. Geoffrey is graduating from high school (yes, the one with the famous
room
), and I am determined to make him something out of
this
. It's Highland Wool Bulky, again from my beloved Elann. His eyes are exactly the same color. I keep browsing through Ann Budd's
Handy Book of Sweater Patterns
, but can't find inspiration. I need to cast on soon - graduation is in six weeks and I am a slow knitter.
I leave you now with something truly amazing to behold - a garment of hand-spun alpaca, knit in Peru:
Something pretty I did not knit